About Us
BluDahlia makes clothing, accessories, and home décor, remixing tribal, bohemian, hippie, and urban glam with dreamy "found" elements. Richly layered, fun, and functional, we are the most daring-est Trio this side of the Mississippi.
Our products are made on site at RedHouse, a boutique showroom and studio space in Philadelphia, PA.
We support and welcome self taught designers and stitchers.
developing local talent, through inexpensive classes.
We are co-Program Directors for Breakfreedesigngroup.org teaching fashion design entrepreneurship to urban youth.
Whenever possible, our core group students are a part of our manufacturing team.
Sustainability through action
Check out our sister sites
http://breakfreedesigngroup.org
http://www.breakfreefashion.wordpress.com
---
Powered by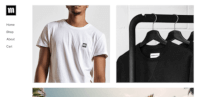 Create your own unique website with customizable templates.